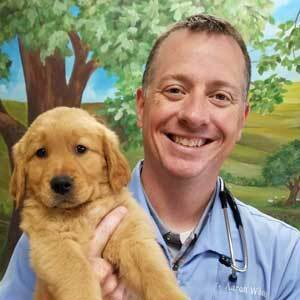 Dr. Aaron Wilson
Veterinarian/Owner
Dr. Wilson is a native of Iowa and an alum of Dallas Center-Grimes High School. He graduated from Simpson College with his B.S. and completed his DVM from Iowa State University in 2006. Prior to becoming owner of Grimes Plaza Veterinary Clinic in 2011, he was an Associate with Sullivan Family Pet Hospital in Johnston for two years and an Associate Veterinarian in Mankato, Minnesota at Minnesota Valley Pet Hospital for three years.
When Dr. Wilson isn't working at GPVC he enjoys spending time with his wife, Sarah and their three children, Kate, Grant and Eli. Their family has a golden retriever, Kip and two cats, Cow and Jimmy. Dr. Wilson also enjoys spending time outdoors and following both college and professional sports.
Dr. Becky Chamberlain
Associate Veterinarian
Dr. Becky Chamberlain grew up in Colfax, Iowa. She received her bachelor's degree in Animal Science from Iowa State University, and then attended Iowa State University College of Veterinary Medicine where she graduated in 2007. Following graduation, Dr. Chamberlain worked in Johnston at the Sullivan Family Hospital as an Associate Veterinarian before her work took her overseas to Stuttgart, Germany for work at a military base veterinary clinic. Returning to the United States in 2011, Dr. Chamberlain began working in her hometown of Colfax at the Colfax Veterinary Clinic, as well as doing relief work in Des Moines and the surrounding area. She joined the Grimes Plaza Veterinary Clinic in 2016 as a part-time Associate Veterinarian.
Dr. Chamberlain is the wife of a Marine, and the mother of triplet girls and one son. She has a variety of pets which include a German Shepherd named Duchess, two cats named Q-Tip and Dandelion, a bunny named Vito, a horse named Kisses and a freshwater fish aquarium.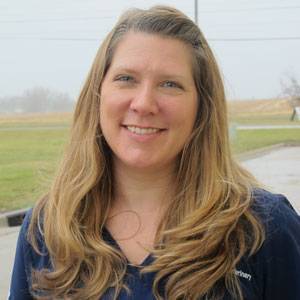 Tammy Baumgarten
Veterinary Technician
Tammy is originally from the Minneapolis/St. Paul area. She attended St. Olaf College in Northfield, MN where she earned her bachelor's degree in biology in 1999. In 2004 she graduated from Argosy University in Eagan, MN with a degree in Veterinary Technology. Tammy and her husband moved to Mankato, MN where she worked as a Certified Veterinary Technician at Minnesota Valley Pet Hospital for almost two years with Dr. Wilson before her husband's job brought them to the Des Moines area in late 2006. Later, Tammy rejoined Dr. Wilson at GPVC where her job entails everything from checking clients in and out to helping with appointments and surgeries, to performing dental cleanings and various other tasks.
Tammy lives in Johnston with her husband, Andy; their two sons, Jack and George; and their two cats, Manny and Inky. She enjoys spending time relaxing with her family, reading, traveling, going to concerts, and of course snuggling with her cats.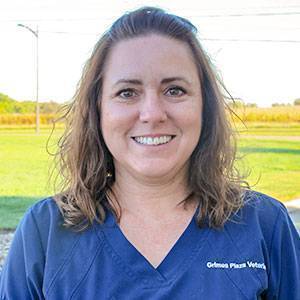 Keena Chance
Veterinary Technician
Keena moved to the Des Moines area from Arizona nearly ten years ago. She graduated from Pima Community College, and has been working in the veterinary field for 25 years in various specialties. She enjoys spending time with her husband and four children. She also is a pet parent to four cats and a dog. Keena enjoys working at Grimes Plaza because she believes that we are a small family business that takes pride in caring for other small families and their pets.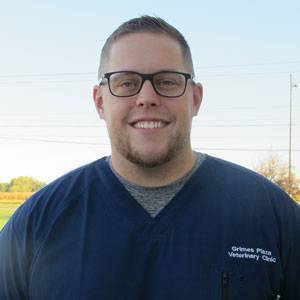 Chris Jespersen
Veterinary Technician
Chris is a graduate of Johnston High School, and has worked as a Vet Technician with GPVC since 2007. He currently lives in Grimes with his wife, Nikki and three children, Tate, Henry and Mia. He enjoys spending time with his family, watching movies, and rooting for the Vikings. He has three dogs, Scout, Alfie, and Murphy, as well as, three cats, Icy, Cleo and Ash.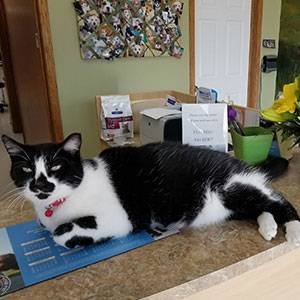 Max
Office Cat
Max has been a part of our team for several years and brings a lot of joy to our office. He loves to sleep in his bed under the front counter and can often be found roaming around the clinic greeting our guests. Give his head a scratch the next time you are in!